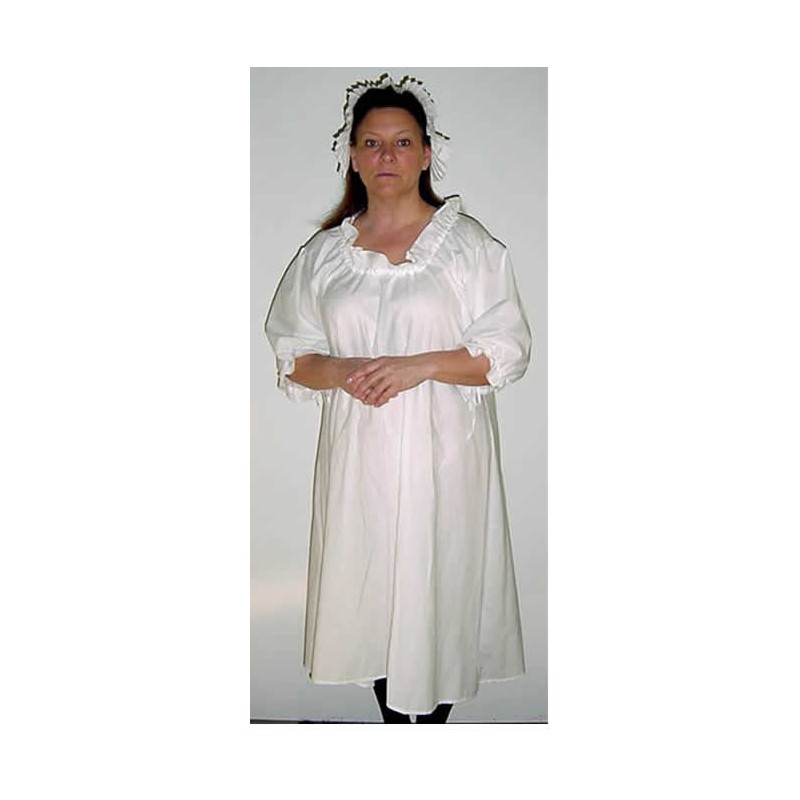  
Ladies Chemise
Tax excluded
Delivery: 1 to 3 weeks
The chemise was the bottom layer of a women's wardrobe. This was used to protect the outer clothing from perspiration and body soil. These were worn at night as well. They tie at the neck and the bottom of the sleeve. The chemise has ruffle at the bottom of the sleeve and neck.
          Bust:  Waist   Under arm to Waist  Waist to top of foot
XSM  30       22          6 1/2                 34
SM     34       26            7                      36
MD    38       30           8                      38
M/L  40        34           8                      38
LG      42       34/36     8 1/2              40
XLG   46       38            8 1/2             42
XXLG 50      42            9                    42
The chemise is an 18th century under garment worn by women. This was the first layer of clothing that a women would put on before putting on their stays, jackets, or gowns. The chemise also served as sleeping wear at night, hence the phrase "Night Gown". The purpose of the chemise was to protect their outer clothing from body oils, perspiration from soiling and staining their garments. We make our chemise out of 100% cotton, with a ruffle at the neck and end of the sleeve.The chemise comes in these sizes Small (6 - 8) Med. (10 - 12) Large ( 14 - 16) Larger sizes are available. Keep this in mind, it sure is nice to have a fresh clean chemise to put on after a long hot day in camp or at home.