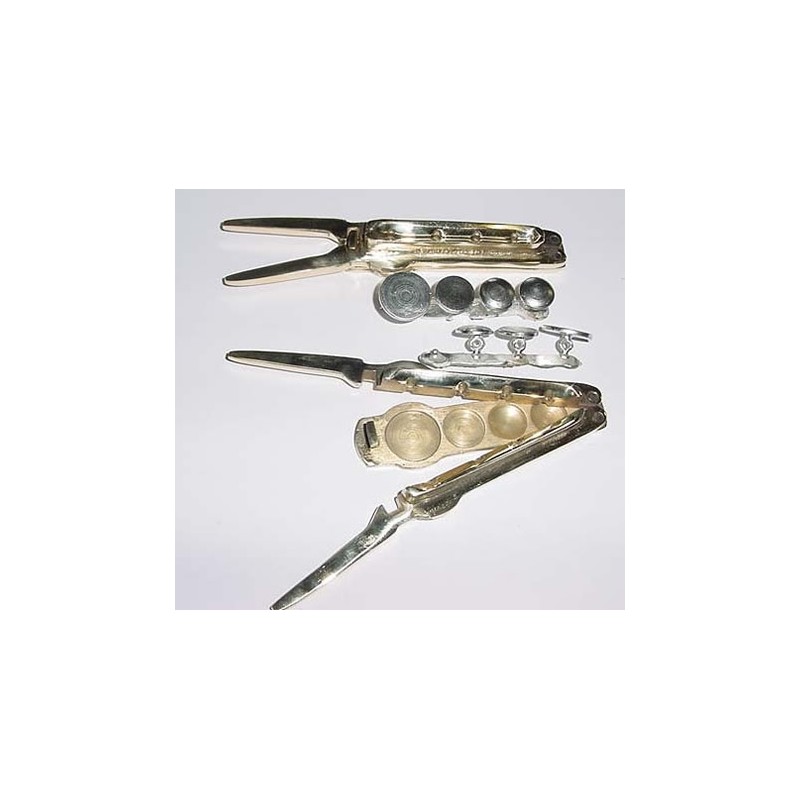  
Button Mold
This button mold was based of an original.
This button mold was based of an original. Soldiers would carry one of these to make buttons when needed, the mold was not used to make mass production of buttons and not every soldier carried one. You can find an example of one these molds in the Encyclopedia of the American Revolution on page 189. The mold makes a flat 3/4" and a 1/2" button and two 1/2" domed buttons. The inside of the mold may/will need to be polished to your desire as they will have some scratch marks. Another thing you can do is engrave a design in the bottom of the mold to personalize your buttons. The handles do get hot and some of our customers install wooden handles. When casting buttons use pewter. I have found each mold is different and will take practice to pour buttons, temperature of the pewter and mold will effect how the mold performs. Do not heat the mold by dipping the mold in your molten pewter as the pewter will cool fast and you will not be able to get the pewter off the outside of the mold making the mold useless. The main point I want to get across is, it will take practice and maybe some adjustments on the mold to get it to perform the way you would like. Also you will get a little flashing around the button and will need to be filed off or the eye may need to be drilled. Do not expect a perfect button. If your not handy with tools and do not have much experience of pouring pewter, you may not want to purchase this type of mold. These also do make a good teaching aid and a display mold at schools and reenactments. I have personally used these molds and have made buttons so I do know they will work. Another note, I use a candle to blacken the inside of the mold, this helps the pewter to flow better. The mold is made of brass.
***The picture below is an example of what a little work can turn this mold into. A customer took our mold and made this example..
No customer reviews for the moment.
Customers who bought this product also bought: